Westfield Senior High School
Class Of 1976
In Memory
Bill Hunziker VIEW PROFILE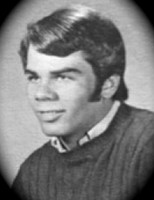 It is with deep sadness that we notify you of the passing of one of our classmates, Billy Hunziker. Billy was loved by many, and we will miss him.
Details will follow as we receive them over the next 48 hours.
December 30, 2012
SERVICES:
Obituary: http://obits.nj.com/obituaries/starledger/obituary.aspx?pid=162080456#fbLoggedOut
William McKee Hunziker
Obituary
William McKee Hunziker, 54, died Dec. 30, 2012, at home, surrounded by his loving family. Visitation will take place on Thursday, Jan. 3, 2013, from 4 to 8 p.m. at Higgins and Bonner Echo Lake Funeral Home, 582 Springfield Ave., Westfield, N.J. 07090, (908) 789-7400. A Mass of Christian Burial will be celebrated on Friday, Jan. 4, 2013, at St. Helen Roman Catholic Church in Westfield, N.J., at 11:15 a.m. Bill will be laid to rest at Fairview Cemetery during a private ceremony at a later date. Bill was born in Manhattan, N.Y., the son of (the late) Robert M. Hunziker and Joan D. Hunziker of Garwood, N.J. Bill was a lifelong resident of Westfield, where he resided with his wife, Theresa, and their three children. Bill graduated from Westfield High School in 1976, where he enjoyed a successful school wrestling career. Bill then attended the University of New Haven in Connecticut, where he received his bachelor's degree in hotel/restaurant management. Mr. Hunziker was employed by PJP, of Philadelphia, Pa. He was a sales consultant for the past seven years selling hotel and restaurant supplies and equipment. Bill spent and enjoyed his lifelong career in the food service industry. He took an active role in his children's numerous activities and was a loving husband, father, and son. Bill enjoyed playing a round of golf with friends, exercising at the local YMCA, and was masterful in the kitchen. He will be sadly missed by his family and friends. Bill was the beloved husband of Theresa (Buckley) for 23 years, and a devoted father to their three children, Peter, Siobhan, and Luke, of Westfield, N.J. He is also survived by his mother, Joan D. Hunziker of Garwood; brothers, James Hunziker and his wife, Alex, of Portland, Maine, Hans Hunziker and his wife, Lisa, of Cleveland Heights, Ohio, and Eric Hunziker and his wife, Judy, of Chino Hills, Calif., and Bill's in-laws, Edward and Nora Buckley of Waretown, N.J., Patrick and Dawn Buckley of Hillsborough, N.J., Paul and Tracy Buckley of Long Beach Calif., Kenneth Buckley of South Plainfield, N.J., and Ann (Buckley) and Greg Guerra of Lexington, S.C. He also leaves behind many loving nieces, nephews, cousins, and dear friends with whom he shared many fond memories. In lieu of flowers, donations can be made in Bill's memory to the John Theurer Cancer Center (Thoracic Oncology Division) at Hackensack University Medical Center Foundation, P.O. Box 417290, Boston, Mass. 02241, or www.jtcancercenter.org.
Published in Star-Ledger on January 1, 2013
Click here to see Bill's last Profile entry.